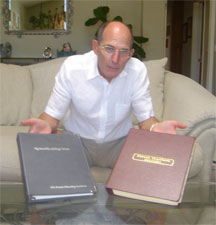 In 1998, the Continuing Education of The Bar (or CEB) began offering classes to lawyers for the protection of their clients against botched trusts. On July 19, 2007, in Garden Grove, such a class was attended by 59 conscientious attorneys. This 3 hour course was entitled, "Estate Planning Scams, Botched Trusts and Other Disasters." The advertising brochure included the following language:

"How do you tell a client that the costly 'canned trust' purchased at a local trust seminar is wrong? Is it worth fixing? What can you do when your client brings you a family document drafted by another attorney? What should you do? What if one of the settlors has died or lacks capacity to restate or amend the trust? If you advise your client to reform the trust, how is this accomplished?"

"At this informative program, you'll learn about the most common scams, blunders, and oversights so you can protect your client or undo the error and fix the client's problem."

The CEB should be commended for its efforts to protect the public by educating attorneys. Unfortunately, the dedicated lawyers are far outnumbered by (1) "low-ball artists" selling inferior trusts at discount prices and (2) trust scammers promoting illegal or unrealistic tax avoidance. Southern California is now the hotbed of trust problems, with in-court and out-of-court legal fees (paid to clean up the messes) escalating into the millions! A particular Los Angeles County Probate Court judge is known for saying, "This is another one of these trusts which was supposed to save money!"

During the recent CEB class in Garden Grove, one of the female instructors commented on the high number of boilerplate trusts which are packaged in attractive leather or vinyl notebooks (see picture above for examples). She finished by saying that, in most cases, the only value received by these trust holders is when they use the pretty notebooks as coffee table decorations!

Why hasn't the CEB (or any other entity) made a serious effort to "crack down" on lawyers and other individuals who promote and sell inferior trusts? The answer involves complex legal, political and economic issues. Trust litigation attorneys, for example, have no monetary incentive to change the current situation. Botched trusts and improper trust management keep then in a lucrative business! Remember, America is the home of capitalism.

How can you protect yourself and family members from becoming the next victims of an estate planning scam, botched trust or other disaster? There's only one way: get educated--and the Estate Conservation, Inc. website is the best place to start!